---
Jacuzzi Suit
Jacuzzi Suit is a six piece outfit which specialises in a live funk stageshow. They have been performing together since mid 1999. Serving up a hybrid of funk and soul, frontman Shane Buchanan is joined on stage by Adam Ferrier on percussion and brass, Leigh Sherringham on trombone, Leif Tisdell on bass, Dan Hooper on guitar and Jamie Andrei on drums.
---
---
TE Articles
Prepare to Enter The Fun Zone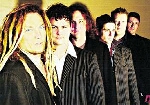 Where: Toronto District Workers Club
When: Friday October 18, 2002


TORONTO WORKERS CLUB will introduce a new experience in live entertainment this month. THE ZONE will officially kick off on October 18 and see some of Newcastle's hottest bands take to the stage for one fo the city's biggest parties. As well as top local bands, NXFM's popular DJ ...

Read More

Source: TE Online - Wednesday October 2, 2002
---
Groovy Night to Suit Your Funky Mood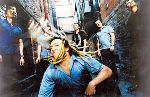 Where: Clubhouse Hotel
When: Friday March 2, 2001


If the music is groovy, hip and your feet just move involuntarily, you have probably walked into a room where funksters Jacuzzi Suit are playing. If you are yet to experience their infectious grooves, check them out at the Clubhouse Hotel in Maitland on Friday night. Jacuzzi Suit's ...

Read More

Source: TE Online - Wednesday February 28, 2001
---
Getting into the groovy suit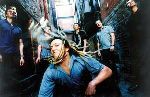 Where: Wests Mayfield
When: Saturday January 27, 2001


From the moment they hit the stage JACUZZI SUIT is into it, letting fly with infectious grooves and palpable energy. Jacuzzi Suit will perform at Phoenix on Saturday night their hybrid of funk, soul and grooves with percussion, brass and great vocals. Jacuzzi Suit cooks up a storm using ...

Read More

Source: TE Online - Wednesday January 24, 2001
---
Jacuzzi Suits the Funky Groovers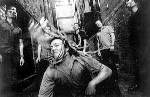 Where: Wests Mayfield
When: Friday December 1, 2000


FUNKY groovers JACUZZI SUIT is still one of the only bands in the Hunter playing mostly funk with a two-piece horn section. The members, performing this Friday night at Phoenix, are all known from previous musical incarnations. They tip their hats to everyone from THE ROLLING STONES to SAM ...

Read More

Source: TE Online - Wednesday November 29, 2000
---
Git The Funk:

Where: Kent Hotel
When: Saturday May 20, 2000


IF it's infectious grooves you're craving then JACUZZI SUIT has what you need this Friday night at The Kent Hotel and Saturday night at The Brewery. Jacuzzi's repertoire offers a hybrid of funk, soul and groove in a cool collision of STAX RECORDS and the 1990s. Jacuzzi Suit is lead ...

Read More

Source: TE Online - Wednesday May 17, 2000
---
Tailor-made for Discerning Groovers

Where: Grand Hotel
When: Friday November 26, 1999


FROM SAM & DAVE to THE ROLLING STONES, THE MIGHTY MIGHTY BOSSTONES to CHEF, lead singer of JACUZZI SUIT and purveyor of dreadlocks SHANE BUCHANAN is not your usual suit. The group he fronts is Jacuzzi Suit, which can be found this Friday night at the Grand Hotel and Saturday night at the ...

Read More

Source: TE Online - Wednesday November 24, 1999
---
Slip into a hot Jacuzzi Suit ...Chocolate, blues fleck!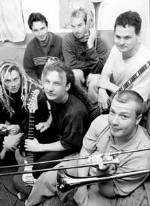 Where: The Cambridge Hotel
When: Saturday September 18, 1999


TRY on the latest summer fashion sensation JACUZZI SUIT at the Cambridge Hotel this Saturday night. From SAM & DAVE, to THE ROLLING STONES and THE MIGHT MIGHTY BOSS TONES, 'the suit' (you know, like 'the 'chair' and 'the 'gurge') is destined to keep you ...

Read More

Source: TE Online - Wednesday September 15, 1999
---
---